About
---
When is National Muffin Day celebrated?
Sunday, February 24, 2019
What is National Muffin Day?
For the past four years, around National Muffin Day (which falls on February 20, although in the past we've celebrated it in January), we've encouraged people to bake muffins and hand them out to people experiencing homelessness in their cities. To incentivize volunteers to bake and participate, we've donated money to homeless causes in San Francisco for each person who bakes and gives.
The result has been the start of a muffin movement!  Through our passion and the power of social media, over 500 friends, family members and strangers have baked and provided muffins (an estimated more than 6,000 muffins distributed) to people experiencing homelessness in over twenty-five cities, resulting in tens of thousands of dollars donated to charity. In 2018, we received significant media recognition with features on CNN, ABC, CBS' Inside Edition and Pickler and Ben.
Who are we?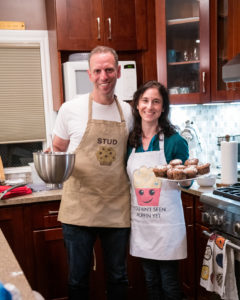 Jacob Kaufman is a tech lawyer living in San Francisco, who has been handing out muffins to hungry folks on his walk to work every week for nearly five years.  Julia Levy works in the non-profit sector in Atlanta, and connected with Jacob four years ago when she interviewed him for her blog that featured "ordinary philanthropists."  
As a result of that interview, the duo developed the idea o f taking National Muffin Day, a food day originally intended to celebrate the consumer, and flipping it around to focus on giving back to their communities.  With over 500,000 people experiencing homelessness estimated in the U.S., there is no shortage of people in the need of warm, delicious muffins made with love.
The Muffins Theme Song
Jacob wrote and recorded this fun medley. It's catchy, and you may find yourself humming along.